Hits since 16 December 2001:

All content Copyrght (C)2000 Rogue Warriors Paintball Team.  All rights reserved.

The ROGUE WARRIORS are a scenario and recreational-based paintball team who are inspired by the teachings and tactics of the legendary
RICHARD MARCINKO
of SEAL TEAM TWO, SEAL TEAM SIX, and RED CELL fame.  We don't claim to be SEALs, instead we strive for the same skill and expertise that makes them the best elite fighting force in the world, and we hold all of the UDT/SEAL warriors, past and present, in the highest respect (please also see our
TRIBUTE
page).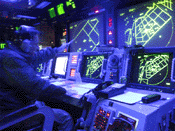 "We seek not to imitate the masters, rather, we seek what they sought"

-  Far Eastern philosophy

ROGUE WARRIORS' OPS CENTER