LEGENDARY SEALS:  (Use your browser's "Back" button to return to this site)


OFFICIAL SEAL LINKS:  (Use your browser's "Back" button to return to this site)

This page is dedicated to the heroes, past and present, of the United States Navy UDT and SEAL Teams, and to all other United States Special Operations units as well.  It is the intent of the ROGUE WARRIORS Paintball Team to show respect for the REAL WARRIORS, and to make sure that their deeds and sacrafices are not forgotten.

If there are any other links that deserve mention on this page, please
email
our Team Captain.  We would also appreciate any comments from UDT/SEAL and SpecOps personnel and veterans.
* NOTE: This section is not meant to exclude anyone - these are the sites we have discovered so far.


MEMORIAL SITES:  (Use your browser's "Back" button to return to this site)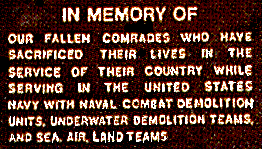 MUST-SEE SITES:  (Use your browser's "Back" button to return to this site)

HAL-3 Attack Helicopter Squadron website

River Patrol Boats website

Special Operations Aviation unit